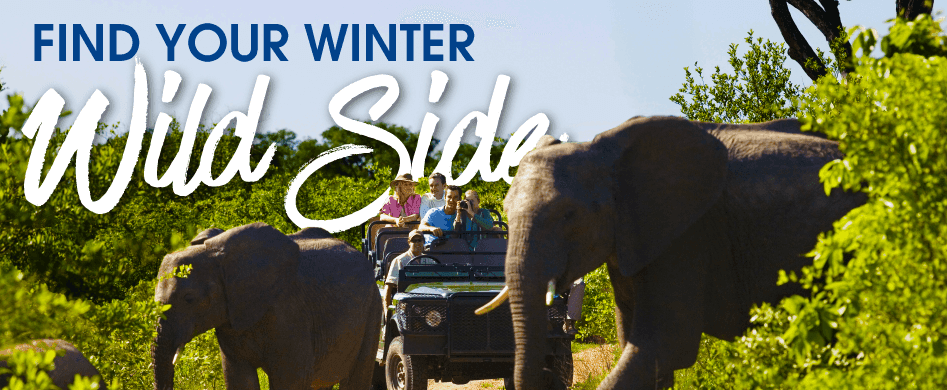 SA Safari Season Adventures
As winter continues to unfold, a whole new world of adventure and wildlife awaits. July to August and all the way through to September marks the prime time for safaris in the country, offering a unique opportunity to explore the diverse landscapes and encounter all of South Africa's magnificent wildlife up close. May to September is the ultimate safari season – why? African plains come alive! Animals gather around watering holes, and the cooler temperatures make for the most comfortable game drives. It's a great time to travel to a safari hot spot and turn the trip into a wildlife adventure. Where you stay makes all the difference to your safari adventure – here are a few of the best options to help you find your wildest side this winter.



Western Cape Wildlife Tours
At Club Mykonos in Langebaan, you can experience the best of both worlds! Enjoy luxurious resort accommodations and facilities, including incredible ocean views, plus, take thrilling land and ocean tours to enjoy the African wildlife both on land and sea. It's the perfect destination for those seeking adventure and relaxation in one extraordinary getaway: ideal for families and couples looking to warm up winter with some heart-racing close encounters in the wild. Take a ride on Ocean Safaris to learn about the beautiful lagoon's history and operations plus the incredible local sealife. On land, Thali Thali Game Reserve is just a 13-minute drive away from the resort and boasts a wide variety of game like Cape and water buffalo, oryx, giraffe, blue wildebeest, zebra, sable antelope, red hartebeest, springbok, ostrich, dromedary camel, emu and more.




Or, if you're looking for a more central Cape Town winter holiday adventure, you can book in at Mount Sierra and take a scenic road trip to the Thali Thali Game Reserve, 1h30min away, or visit the Aquila Private Game Reserve, just over 2hrs away. There's nothing like a mini road trip to bond and make those epic travel memories with your crew while grabbing those en route safari shots: #SafariPhotography #SafariRoadTrip vibes!

Garden Route Game Drives
Perna Perna Mossel Bay offers comfy and convenient accommodation with a wide range of onsite activities, as well as opportunities to explore the area when it comes to sealife and Big 5 safari tours. This resort is one of the very best in Mossel Bay, perched on the rocky hillside of this coastal village. It's ideally located for both land and ocean safaris. You can take a boat trip to Seal Island or enjoy a game drive at Botlierskop Private Game Reserve, just 30 minutes away from the resort. When you're not out wildlife adventuring, the resort offers a pool, outdoor fireplace, free WiFi and all the comforts for you and your loved ones to relish.

Nature Reserves on the KZN North Coast
On the KZN North Coast, the La Rochelle self-catering resort has comfortable accommodations and onsite facilities as a base for a wild adventure for all. Its prime location for wildlife encounters includes easy access to the UNESCO World Heritage Site iSimangaliso Wetland Park, and it is close to the St Lucia Estuary, a world-renowned site boasting the greatest concentration of hippo and crocodiles in South Africa. Plus, it has nearby game drive options and ocean tours, making it an excellent choice for nature lovers and adventure seekers alike. When you're not living on the wild side with game drives and boat tours, you can enjoy a range of onsite activities, including swimming in a sparkling pool, relaxing in the Jacuzzi, enjoying the lush gardens, making use of the games room and playground, and more. Don't forget to take a Dolphin and Whale-watching Tour to experience the massive and marvellous creatures in the Indian Ocean up close and personal! #OceanSafari! Or if you're amped to see the Big 5 on your Winter trip, a road trip of less than 60 minutes will bring you to the Hluhluwe–iMfolozi Park, is a Big 5 Game Park comprising 96,000 Hectares of wilderness waiting for you to explore! Time to channel your inner explorer, pack and go!


Wildlife Tours in the Eastern Cape
Kowie River Chalets in Port Alfred is the ultimate destination for an Eastern Cape safari vacation on SA's Sunshine Coast. This resort has spacious and comfortable 3-bedroom chalets with every amenity you will need plus unparalleled views of the warm Indian Ocean from private balconies. Enjoy braai facilities, a swimming pool, beach access, heating, outdoor play equipment for the kids plus daily entertainment and loads of activities for the whole family. This is all just a warm-up to the best tour spot just 11 minutes from the resort at the Oceana Beach and Wildlife Reserve. Here, you can enjoy land or ocean tours to see and learn about the Big 5, whales of the deep, birdwatching and more. Now that's what we call prime comfort, convenience and close encounters, all in one perfect spot!


Game Reserves near Midlands KZN
If you're looking for a country escape with a difference, Midlands Saddle and Trout is the perfect destination, offering rustic country luxury for the inland safari traveller. Situated near the Mooi River, it is the ideal destination for self-catering holidays, offering comfort, great cuisine, a wellness centre and the famed Midlands hospitality. Plus, if you're in 'safari-mode', both Tala Game Reserve (1h24min away) and Zulu Waters Game Reserve (37min away) are within close proximity, allowing for easy access to exciting wildlife encounters. There's tons to explore on both reserves including a horseback safari option! Once your day trip to the reserve is done, you can kick back and enjoy the resort facilities such as swimming pools, tennis courts, a spa, and various recreational activities like horse riding and hiking, ensuring that you have plenty to do and can unwind after your epic game drives.

Hartbeespoort Game Drives and Nature Reserves
Magalies Park is a favourite spot for families, couples and friends looking to relax and unwind in a natural setting in the picturesque Magaliesberg area. The resort is set on a pristine golf course, offering a range of accommodation options from 2-sleeper 'hotel' rooms for a couples retreat to 3-bedroom chalets for the family safari vacation you've been dreaming of. From a stellar golf course with frequent onsite wildlife encounters, paintball arena, wellness spa, restaurant and Teenzone to barge cruises, Kid's Club, playgrounds, heated pools, adventure golf and multiple sporting activity options, you and your crew will be spoilt for choice. And when it comes to nearby game drives, you will want to spend a whole week there JUST to visit them ALL!



The Elephant Sanctuary Hartbeespoort is only 9 min away from the resort and offers the encounter of a lifetime with special programmes and elephant walks to tick off your bucket list experiences when it comes to interacting closely with these gentle giants. The Lion and Safari Park is 22min away and offers the opportunity to see lions, giraffes, zebras, leopards and more thrilling African wildlife. A little further out, 45min away, you'll find the Bothongo Rhino & Lion Nature Reserve where you can take guided game drives or self-drive; explore the Bothongo Wondercave and the Snake Park and along the way get close to lions, rhinos, hippos, hyenas, cheetahs, and more! There's also the Dinokeng Game Reserve or the Hartbeespoort Dam Snake & Animal Park for more animal encounter fun!

In South Africa's winter wonderland, July 'til September is the prime time to venture into the wilderness and create lasting memories with your loved ones. Whether you choose to explore the Western Cape, KZN North Coast or Midlands, Eastern Cape or Hartbeespoort, each region offers unique charm and memorable wildlife encounters. So, pack your bags, embrace the spirit of adventure, and embark on a safari journey that will leave you in awe of South Africa's natural beauty and captivating wildlife.

"Everything in Africa bites, but the safari bug is worst of all." - Brian Jackman