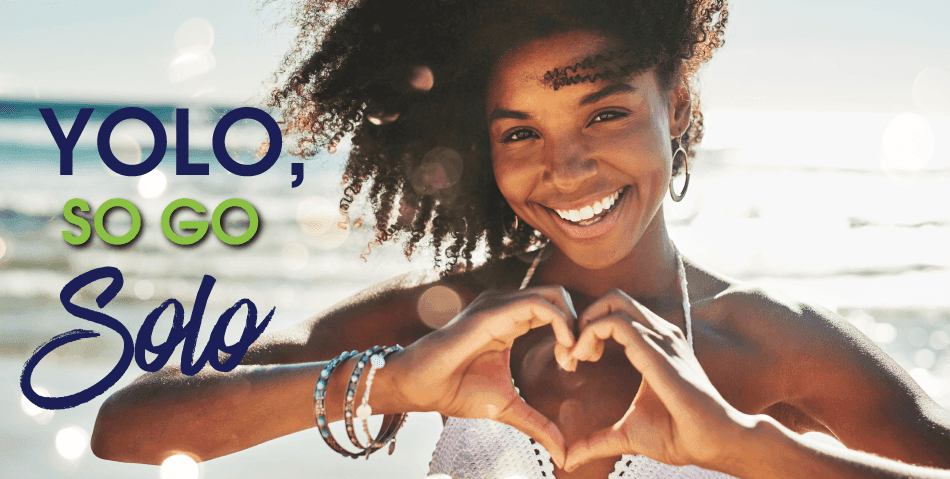 Put YOU first for Women's Month
Who runs the world? Girls! That's right, ladies, you are a force to be reckoned with, because you can do it all. You are mothers, partners, friends, teachers, mentors, entrepreneurs, doctors, leaders, the list goes on and on. Also, if Beyonce said it, it must be true!


But seriously, as a woman, you sacrifice so much for others. Now it's YOUR time to shine, because August is Women's Month! This is your chance to put yourself first, and what better way to do that than by going on a solo adventure. Travelling solo means you get to spend time with the best person there is – YOU!

Whether you're rocking the single life, putting a breakup behind you, busy being the world's best mom, or loving life with your partner, going solo may be exactly what you need right now. Need some inspiration for your trip? We've got you, girl! Take a look at these AMAZING destinations for an incredible solo trip.

A Solo Trip to the Garden Route

All the single ladies, put your hands up! Okay, that's enough Beyonce. Being single doesn't mean you aren't crazy busy. Trying to balance your job, health and social life can get a little hectic. It might be time to break away from all the stress and go on a solo journey of self-discovery. And what better way to do that than by reconnecting with nature along the beautiful Garden Route. Don't worry about where to stay; we've already found the perfect place for you! You can check in at Knysna River Club, a spectacular 4-star resort located in the quaint lagoon-side town of Knysna. It has everything you need, from the comfortable and spacious chalets to free wi-fi and a swimming pool. Your accommodation is sorted, so now all you need to do is go out and become one with nature. Reconnect with the earth by digging your toes into the sand at Buffalo Bay. Feel the wind in your hair as you fly through the treetops on the Knysna Ziplines. Meld with the ocean on a snorkeling tour of the Paquita wreck with AMD Odyssey. There is no better way to reconnect with yourself than by being in nature. After this solo trip, you'll be ready to get back and conquer the world!

The Western Cape is Perfect for Solo Travellers

Breakups are tough. All you want to do is sit on your couch, drink wine, and eat. We're not saying don't do that; we totally support you! But why not take a solo trip to Cape Town? This way, you can drink lots of wine and eat delicious food in a gorgeous city instead of sitting on your couch. You'll be so busy having a great time that you won't be thinking about anything else.

We already have an amazing place for you to stay! Check in at the lovely Hastings Hall, one of the leading hotels in Tamboerskloof, situated in the shadow of Table Mountain and Lion's Head. You can kick back and relax in a homely 1-bedroom apartment, which includes a bathroom, lounge, dining area, and a fully-equipped kitchen. You'll also be able to use the free wi-fi and the terrace, where you can take in your beautiful surroundings. Now, back to the wine! Experience South Africa's vibrant wine culture on a door-to-door tour with African Story Wine Tours, where you get to visit four top vineyards in Paarl, Franschhoek and Stellenbosch. Don't worry about getting there – they will pick you up! Of course, you're here for the food too, so grab a bite to eat at the Reverie Social Table to satisfy your cravings. This is going to be the perfect trip for you to put your past behind you. When you get back from your solo trip, you'll be completely refreshed, so you can start focusing on your bright new future. You go, girl!
Solo Travel Ideas in the Eastern Cape

Ah, motherhood! The hardest yet most rewarding job there is. As a mother, you get very little time to yourself, and when you do have time alone, it is heavenly! But don't just go hide in the bathroom to get away, the little ones will hunt you down in no time. Instead, take a relaxing, quiet holiday at the Hole in the Wall Resort in the Eastern Cape. The little rascals definitely won't be able to find you there! This gorgeous accommodation offers self-catering options and first-class service. It is located along the Wild Coast with access to breathtaking, unspoiled beaches. Most importantly, it is remote, so you can enjoy the peace and quiet. You can just let go of all your stress while enjoying a massage, birdwatching, and nature walks. If you're itching to explore, then head out to Mapuzi, where you can jump off the cliffs into the pristine waters below and take a tour of the majestic caves. After relishing your time alone, you can get back to being the incredible mother that you are. A solo trip is exactly what all mothers need, because you deserve it!
Travel Solo for an Adventure in Kwa-Zulu Natal

Have you heard that distance makes the heart grow fonder? You may love being with your partner, but that doesn't mean you can't spend time apart. It can even be healthy for your relationship! This is the perfect opportunity to go on a solo adventure to Durbs, and we have the best place for you to stay. The luxurious Palace All-Suite Hotel will blow you away with its first-class service and hospitality. It is ideally located along Durban's Golden Mile, where you can relax in your fully-equipped, contemporary suite that is perfect for a sunny seaside holiday. You won't want to go back home after being pampered at the spa, sipping cocktails at the bar, and having the beachfront on your doorstep. It might be hard to leave this awesome hotel, but you can return after going on an exciting adventure! Hang out with the birds at the Umgeni River Bird Park, feel the rush of adrenaline as you ride the world's tallest swing at Big Rush, and take a relaxing stroll through the Durban Botanic Gardens. All this exploring is going to work up a serious appetite, so dig into a mouthwatering meal at California Dreaming. After some time apart, you might appreciate your significant other even more. So, pack your bags, but not your partner, because it's time to go solo!
There are so many good reasons to travel solo, but that might not be your thing, and that's okay too! Take a friend or family member along for the ride to spend some quality time together. Just remember that YOU are all you need; there is no one better to take along for the adventure of a lifetime. The moments you have to yourself are precious, so remember to cherish them. Going solo may be the best thing you ever do. Or not – it's up to you. Bon voyage!
"Some journeys in life can only be traveled alone." – Ken Poirot