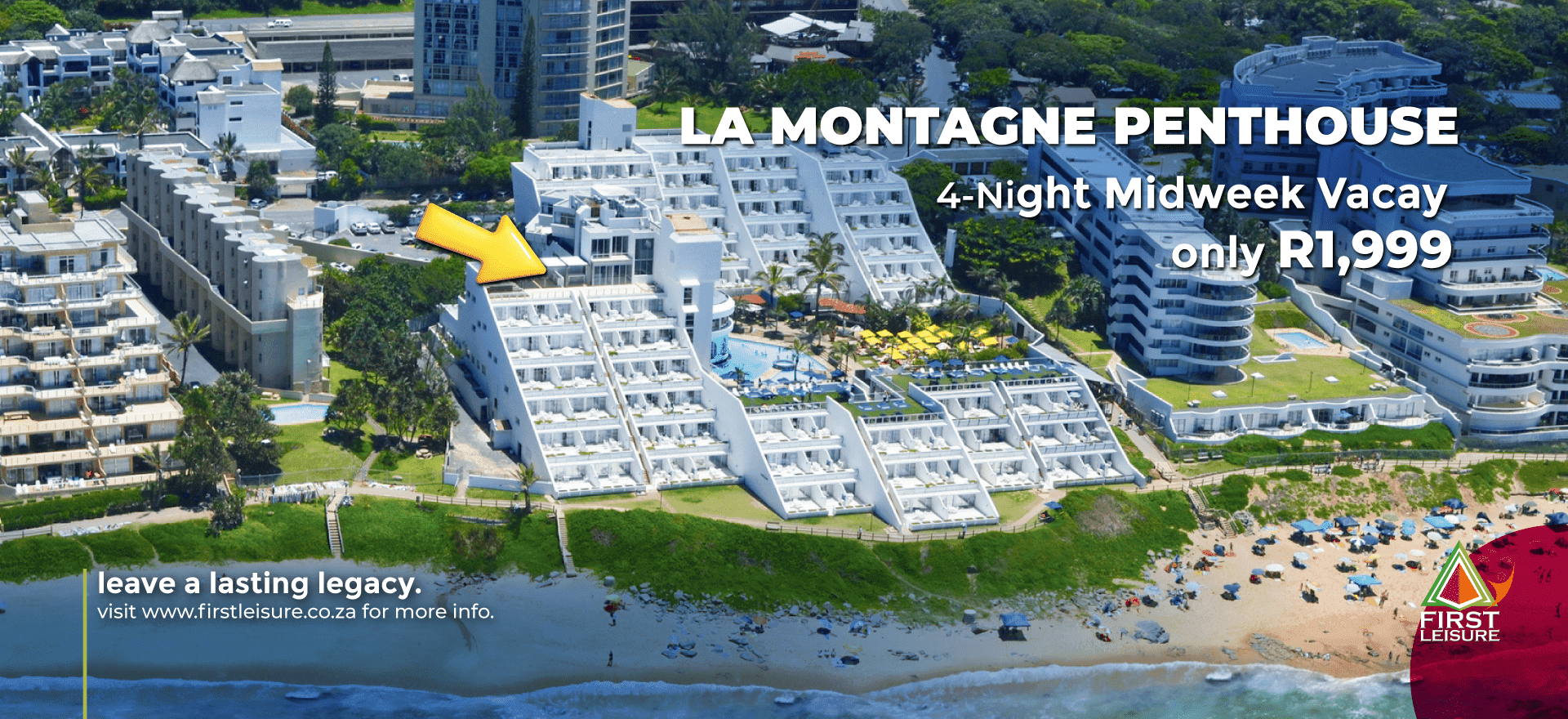 | | |
| --- | --- |
| | Meet your insider to the luxe life! They're here to ensure your booking is as smooth as your vacay at La Montagne Penthouse. |
Escape on 4-night midweek luxury retreat at La Montagne Penthouse, the gem of Ballito, for only R1,999!



This special offer is exclusive to couples over 30 years with a combined household income of R50,000+ per month. The offer includes breakfast daily and a 2-hour collection showcase by First Group.
Don't miss this chance to create magical and lasting memories.
Call 031 714 0394 to secure your spot or fill out the form below and we'll get back to you on WhatsApp. Ts & Cs apply.
Terms and Conditions Apply.
This is a once-off offer, open only to couples over 25 years of age with a household income of R50,000+ p/m. You and your partner will be required to attend a 1-hour presentation on our amazing vacation product options. Offer open to existing guests and their spouses. Accommodation subject to availability. Excludes all travel costs including airfares, meals and any extras. If participating couples fail to attend our product showcase, the full accommodation price becomes payable.
FAQs
Q: Can I discuss the holiday booking with my partner before making a decision?
A: Absolutely, we understand that making decisions together is important, especially when it involves a budget. However, please note that our booking dates operate on a first-come, first-serve basis. A similar situation occurred with another guest, and they chose to take advantage of the offer immediately to secure the special rate of R1,999. It's a brilliant opportunity that you might not want to miss.

Q: Can you send me the information by email?
A: While we can certainly send details by email, it's worth considering that previously, a guest requested the same and, by the time they checked their email, the desired dates were fully booked. To avoid missing out on the holiday offer at the exclusive rate of R1,999, we recommend discussing and finalising the details now.

Q: Can you call me back later?
A: Of course, we can call you back at a more convenient time. However, a past guest preferred a callback and found that a delay of just 2 minutes cost them an additional R8,000. We wouldn't want you to face the same situation, so a brief conversation now could be beneficial.

Q: What if I am not currently interested in a holiday booking?
A: We understand that you might not be looking for a holiday right now. Interestingly, another guest felt the same until they realised they could save R6,000 on this promotion, which includes a stay at a 4-star resort. As our stock is limited, this is a time-sensitive opportunity to consider.

Q: Are peak dates, like December bookings, included in the promotion?
A: Yes, peak dates are typically more expensive, but by booking now, you can save R6,000 on your holiday. It's a great chance to enjoy premium dates at a fraction of the cost.

Q: Is this promotional offer available for bookings in 2024?
A: The current promotional rate of R1,999 is exclusive to bookings for the year 2023. To take advantage of this exceptional offer, we encourage you to finalise your booking promptly.