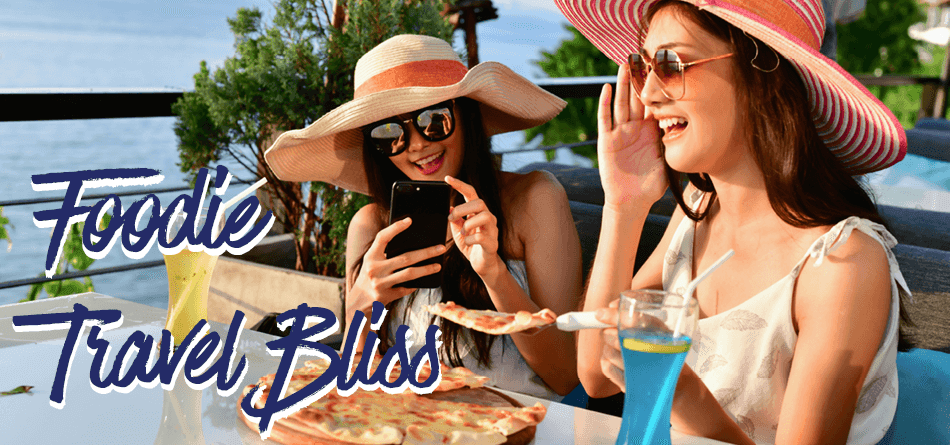 With the weather cooling off, the best way to warm up is with a lekker chow. In South Africa, the options for cosy new meals, treats and snacks are boundless. SA is a land of culinary treasures waiting to be discovered - from spicy Cape Malay curries and Knysna oysters or Durban bunny chows to juicy braai meat and even fine dining. This country has a diverse food culture that is sure to tantalize your taste buds all in the right ways. A foodie journey through South Africa is a perfect way to explore the country's culinary scene while experiencing its rich culture and natural beauty.
Whether you're road-trippin' across SA for the best foodie fun for your palate or choosing one destination at a time, the variety and possibilities are endless. Where you stay makes all the difference to the tasty encounters you ultimately have. Making travel, booking in and enjoying the flavours easier than before is the focus here. Here's a few ideas of where to go, and what your options are as you put pen to paper and plan your next gastronomic trip.
Durban Curries & Best Bunny Chows
The Coast has the most! Only because the sea is right there, staying at a coastal resort can mean tucking into the freshest seafood on offer. But if Durban is in your sights, this city brings a whole new punch of packed flavour and spice – which can make your travel there more than 'nice!' We're talking about curry and bunny chows at its best.
Breakers Resort , in Umhlanga, is the perfect Foodie holiday headquarters to book for its prime coastal location, sea views and access to the rest of Umhlanga (and North and South Coasts) for all the added fun both foodie and just in general. The rooms are luxurious and comfy serving your every need and the onsite restaurant, Reef Café, offers a laid-back dining experience with daily specials, serving simple yet delectable food, skilfully crafted and presented by attentive and friendly staff. It's where you can enjoy a casual and comfortable dining experience while soaking up the beachside vibes.
You may be wondering… So, where's the bunny chows? Hang on… we're getting there… Bunny Chows and Curry spots are EVERYWHERE in Durban and the surrounding areas! Umhlanga, the outer Durban area and the North Coast are teemed with curry dens and bunny chow championship restaurants where you could have a new curry or bunny chow in a new spot for EVERY MEAL during your holiday. But to make life a little easier, here's a few top spots in Umhlanga, near Breakers and nearby – plus two places that will be worth taking the Uber trip to visit for a sit-down meal or takeaway chow.
In Umhlanga, try CaneCutters and Cumin Café - two curry and bunny chow hot spots you will not regret visiting. If you're looking for authentic Durban-style curry and Durban's Best Bunny Chow, it is a must-stop for lunch, dinner or takeout.
There are two other top Durban curry spots that you must experience when taking a curry cuisine travel tour: Goundens (in Durban) and Capsicum Restaurant (at the Britannia Hotel.) The locals keep going back to these two places after decades of top tastes and the overall experience. IF you haven't already been, find out for yourself and add these to your foodie bucket list, for sho! If you've been, you KNOW what we're talking about: GO BACK and enjoy!
Best Braai
Braai (South African Barbeque) or Shisa Nyama is more than just a way of cooking meat, it's a cultural institution that brings people together over good food and good company. Whether you've been to countless braais or are yet to experience the ultimate epic braai, we're here to say: It's WORTH IT! Shisa Nyama means "burnt meat" and many South Africans crave this char on their meat, regularly. So, if you're a foodie looking for the true taste of SA, book your holiday at The Palace All-Suite resort on Durban's Golden Mile in North Beach, and get ready to savour the best Shisa Nyama in Durban from the onsite restaurant Pesto where they have a Shisa Nyama platter for 1 on their permanent menu!! Oh yeah!
This resort also has a second seated restaurant option, THE SUN LOUNGE, located on the 5th floor and is a modern, luxurious lounge restaurant where you can sit back in comfort while enjoying the best food indulgence on North Beach.
Durban is also scattered with public spots where you can braai yourself or a short drive up the hill can bring you to Braai BOSS KZN in Windermere where great traditional and spit braai options await to satisfy your braai craving – to include sausages, lamb, chicken, as well as sides like potato salad and 3-bean salad.
If you're not looking for a coastal culinary experience in Durban, don't stress, the wonderful part about SA is that everyone knows how much we LOVE TO BRAAI… so most resorts have Braai facilities on the property or even at the units for those family braais, guy trip braais or couple's braais for the ultimate braai lovers on travel.

Garden Route Oysters and Seafood
The Garden Route in South Africa has an impressively scenic stretch of coastline that offers a unique culinary experience where seafood and Oysters feature a lot! The town of Knysna, in particular, is renowned for its delicious oysters and seafood. Did you know that the Knysna oyster is a prized delicacy that has gained worldwide recognition for its exquisite taste and quality? The surrounding waters are also abundant with a variety of seafood, including prawns, mussels and fish. This makes Knysna and the Garden Route a food-lovers paradise for seafood enthusiasts.
The Knysna River Club is a beautiful tranquil self-catering accommodation option for those looking to dive into comfort and luxury. It's located in the heart of the Garden Route on the edge of Knysna Lagoon and features a private jetty and a pool surrounded by the most peaceful landscape where lush trees meet serene water. All chalets are equipped with a fully-functional kitchen and a private balcony to enjoy the views. When you're not 'feeding' your way through the Garden Route, relax on sun beds by the pool, enjoy the sauna and Jacuzzi, or visit the nearby golf course, Knysna Train Station and Kruisfontein Forest.
When you're ready for it, the oyster-tasting experiences nearby will blow your mind. Try these oyster and seafood hot spots to tickle your oyster fancy:
Mossel Bay is also a town along the Garden Route that is famous for its seafood. Located on the Indian Ocean, Mossel Bay boasts a thriving fishing industry that provides an abundance of fresh seafood. Visitors can indulge in a variety of seafood dishes, including fish and chips, calamari, prawns and crayfish. The town also hosts an annual Mussel Festival that celebrates the area's rich maritime heritage and showcases its delectable molluscs.
So, if you're a seafood lover travelling along the Garden Route, be sure to make a stop in Mossel Bay and savour the flavours of the sea. And when you're planning your seafood adventure, book in at Perna Perna Mossel Bay, especially if you're looking for a place to holiday at that's luxurious and has epic ocean views. It has splendid self-catering apartments with private balconies or patios where you can soak up the ocean vibes. Plus, a pool, games room and outdoor braai area mean extra awesomeness for those chill hangouts. It's also in a prime location close to cool restaurants, shopping centres, and other fun attractions on the Garden Route, so you won't ever be bored. And the food? Yoh! The food is fresh and fabulous, too! Here's a few seafood hot spots to visit nearby when you're staying here:



Cape Cuisine
Cape Town is a vibrant city that shows off with its rich culinary offerings. It's like a scrumptious scene from your favourite foodie movie inviting you into an eclectic mix of international and local cuisines that promises to delight. It's filled with an abundance of fresh seafood dishes that are prepared using a variety of local spices and herbs. The Cape is also famed for its unique blend of European, Asian and African flavours, resulting in delicious fusion dishes. We all know that the Mother City (and surrounds) is famous for its wine culture where travellers can indulge in wine tastings at some of the city's top vineyards and wineries. The locale is also home to a number of fantastic restaurants, from casual street food vendors to Michelin-starred establishments, providing a diverse range of dining experiences that are sure to satisfy any foodie's appetite including artisanal offerings.
First, a place to make your home-away-from-home so that you can fully explore all the city's top flavours: Riviera Suites on Sea Point's Millionaire's Mile is the ideal cuisine holiday headquarters. Why? It has luxurious and comfy rooms, in a prime location offering an indoor swimming pool and wellness spa plus the Jooma Coffee Shop onsite. Catch up with your crew or make new friends enjoying the best coffee, sweet treats and light foods. Plus, the V&A Waterfront nearby opens up the possibilities for even more foodie-flavoured fun.
Looking for something different for your palate in this area? There are tons of stellar restaurants nearby to this resort that take pride in offering the unique side of cuisine, and some we dare say, call these offerings 'artisanal' in nature due to their use of local produce and inventive cooking methods and recipes. Try these two out:
A little gem, only a 3-minute walk from Riviera Suites, is La Bottega Deli which is a little Italian deli, which is a treasure in Cape Town. In Italian, "la bottega" simply means shop, and here you can satisfy the foodie shopper in you: hand-pick from a wide variety of authentic products, from freshly baked goods to cheeses – all promising their own unique goodness.
If you feel like learning a new cuisine that you can go back home and prepare, why not try a Bo-Kaap Cooking Tour and try your hand at creating a Cape Malay cuisine dish loved by the locals and tourists, alike?
What is the Cape without its wine?! This is why wine tasting in the Cape Winelands is a must for anyone who considers wine an important part of a balanced diet. If you're looking for a wino adventure and want to include some awesome wine experiences from restaurants serving local wine, wine farms and wineries, holiday at Cape Gordonia in Gordon's Bay, as this resort has multiple wine farms all within 30 minutes.
Grape Expectations Winery | approx. 6 min away
Late Bloomer Boutique Winery | approx. 7 min away
Journey's End Vineyard | approx. 17 min away
Lourensford Wine Estate | approx. 26 min away
Longridge Wine Estate | approx. 28 min away
Vergelegen Wine Estate | approx. 29 min away
Plus, the accommodations are luxurious with the best views and access to seaside fun, tours and cruises. You'll have everything you need in one spot with access to Gordon's Bay at your fingertips.
Fine Dining on Travel
If you're travelling for a special anniversary, honeymoon, ready to propose or extra special date night – or even if you're just looking for an elevated cuisine experience on travel, finding the fine dining restaurants near where you're staying can be the cherry on top of your superbly-plated exquisitely tasting meal. For example, if you're going to Cape Gordonia for a wine tour, we found a top dining spot only 3 minutes away from this luxury resort. Café Zest is perfect for those elevated treats for your tongue or a romantic fine dining experience.
Other resorts, like Magalies Park, has Stef's Table, only 15 minutes away - where you can dine with your favourite people on holiday and enjoy the great service, food, presentation and ambience with the personal touch from the owner making a big difference to the memories you take away with you. Or if you're splashing out and booking the Penthouse at La Montagne in Ballito, 45 on Eat Street is nearby for families and friends to connect and feel comfortable in a sophisticated yet casual environment.

Kids Meals
If you're travelling with kids, it can be even more of a challenge to find spots that cater for both your and their preferences. If you have a kid who eats everything: YAY! If you're dealing with a fussy eater, we don't need to tell you that 'the struggle is real'. Luckily, many resorts have onsite restaurants with the foods kids usually enjoy the most mac and cheese or yummy pasta, pizza, toasties and burger and French fries. Here's a few resorts that you can check into to ensure you're kid is also happy with their meals.
Midlands Saddle and Trout, Bushman's Nek and La Montagne all have special Fred First Kiddies Menus on offer. PLUS La Montagne offers a Kiddies' Party option if you're planning your little one's birthday celebrations. Other resorts, while they may not have a set Kiddies Menu, their regular menu offers all the options that kids usually crave from pizzas and pastas to toasties and burgers with fries: Hole in the Wall (Eastern Cape), Qwantani (Harrismith) & La Côte d'Azur (Margate) to name a few.

Resort Restaurants – Chef's Choice
While we're on about the resorts and their kid's options, let us not forget that the great thing about a resort restaurant is that the menu has been designed by a professional chef with the aim to please your palate (not just the kids). Some resorts even plan special events and menus for special holidays to make it even more exciting for everyone holidaying from Mother's & Father's Day, Christmas, and Easter to Halloween, St. Paddy's Day and more.
They don't just focus on the needs of one type of traveller or foodie, because resort chefs know all sorts of people in all kinds of different groups travel for various reasons. They keep in mind that the family with the fussy eater, the partner with a craving for an elevated food experience, the solo traveller after a new bucket list adventure may be starving and the fishing buddies just looking for a burger and chips are all in the resort restaurant and looking for a satisfyingly delish meal to chow down.
Here are a few resorts that have onsite restaurants with menus specially designed by Chefs to make sure your next meal on holiday delivers the flavour and satisfaction you're craving:
Remember, the resort restaurant is not just there to make sure you're fed on your travels… yes that's a very big part of why they provide the food – but it's also a little community of food lovers who have come together to make your trip even more memorable with every munch and crunch. They say food is life, and the resort food and beverage staff from chefs, waitrons, barmen, entertainment staff and everyone in between take pride when you're there just to taste their creations and make it a part of your holiday experience to remember for LIFE.
In South Africa, every bite is a journey through its rich cultural heritage, natural beauty, and diverse flavours. Add popular culture, foodie trends and fine dining to the mix, and you're in for a foodie adventure to remember. Don't miss the opportunity to indulge in a tasty journey through this country and discover the magic of its culinary scene.
"People will travel anywhere for good food – it's crazy." - Rene Redzepi (Danish Chef)