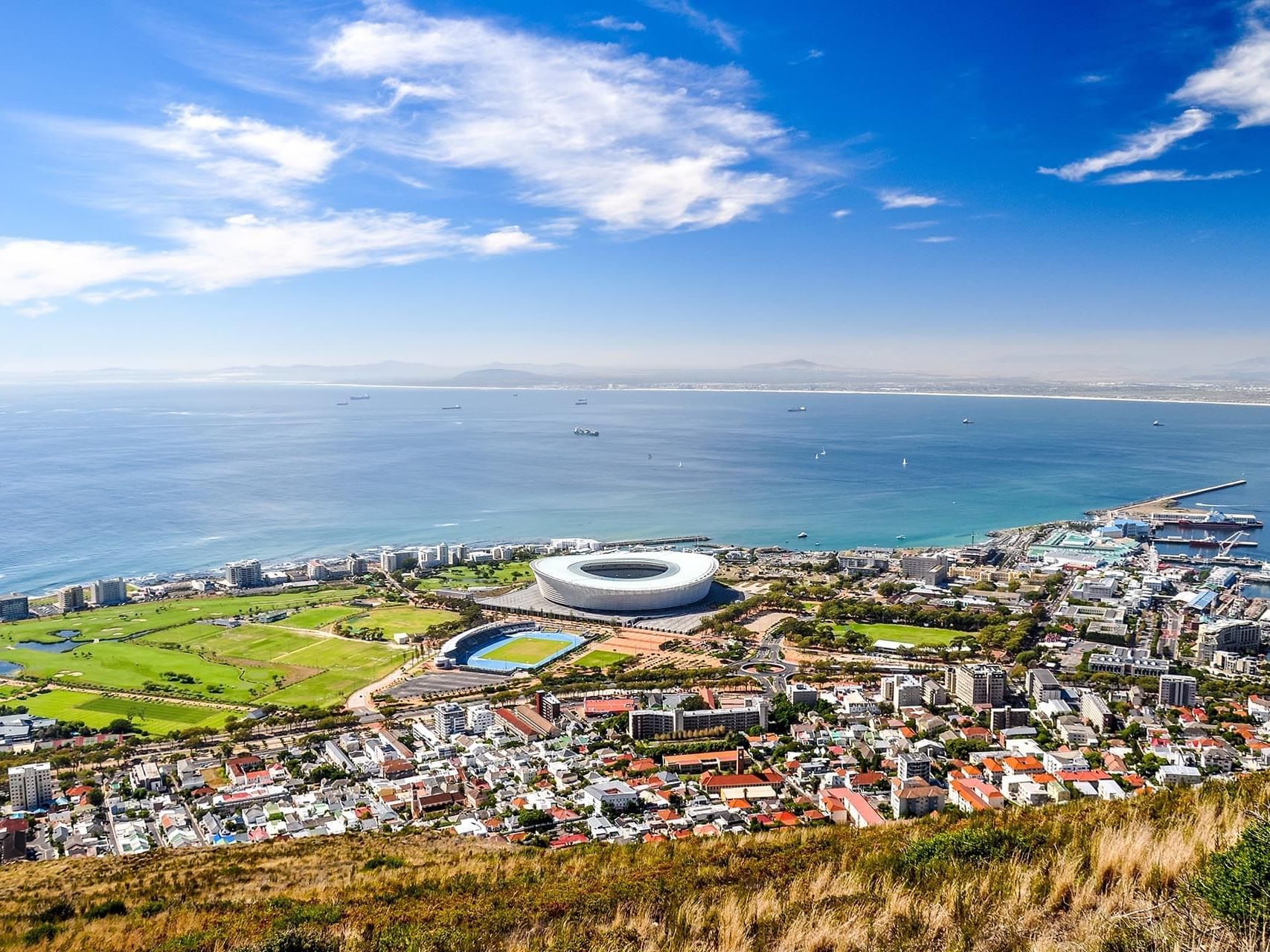 First Group Properties [city]
Welcome to South Africa's most beautiful province!
Visit with us and discover the very best hotels, resorts and chalets in the Western Cape, featuring unmatched land- and ocean-scapes, amazing weather and that famed Cape hospitality and service.
First Group's accommodation in Western Cape is designed to offer you the quintessential Cape experience, with well-appointed rooms, high end facilities and easy access to all the world-class attractions the province has to offer. Check out our resorts, chalets and hotels in the Western Cape today, to make magical and lasting holiday memories.

How much is accommodation in the Western Cape?
We offer a range of high-end, coastal accommodation options, with prices and locations guaranteed to suit your budget and your preferences, with amazing experiences unique to each property. Visit www.firstgroup-sa.co.za to explore our comprehensive accommodation options and find the perfect holiday solution for you!
Which are the best hotels in the Western Cape?
Mount Sierra, Cape Town, Western Cape
Mount Sierra in Cape Town offers a variety of accommodation options to suit the discerning traveller or holidaymaker. Mount Sierra is perfectly located to offer our guests easy access to the Mother City and all she has to offer.
Mount Sierra will ensure that your visit to Cape Town is a memorable one. Stay in relaxed self-catering holiday comfort in one of Cape Town's most beautiful areas.
What is there to do at First Group Mount Sierra?
Whether you are staying at the hotel for a family break, wedding or romantic getaway, Mount Sierra offers a choice of facilities and services to make magical and lasting memories. Why not jump into a funky London-style cab for all your sightseeing and explore the many interesting attractions near the property?

Cape Gordonia, Gordon's Bay, Western Cape
Self-catering accommodation in Gordon's Bay is removed from the hustle and bustle of the city centre and is situated across the street from the beautiful Blue Flag Bikini Beach. It is a haven for families and couples looking to truly embrace the natural beauty of the Cape. Cape Gordonia holiday apartments offer affordable, quality self-catering lodgings, with sweeping views over the Bay and the distant Helderberg Mountain range.
What is there to do at First Group Cape Gordonia?
Cape Gordonia's luxury self-catering apartments in Gordon's Bay include Wi-Fi, private braai areas, a daily cleaning service, and offer a childminding service, so that you can really relax and enjoy your vacation without having to worry about the kids. Both our apartments and the resort have stairs, making Cape Gordonia unsuitable for wheelchairs.

There is no shortage of activities and experiences available at Cape Gordonia to keep the family busy. Challenge the family to fun board games and make use of the fantastic array of daily entertainment activities available onsite.
Hastings Hall, Tamboerskloof, Western Cape
Hastings Hall, one of the leading Tamboerskloof hotels, tucked in the shadow of Table Mountain and Lion's Head, provides an ideal base from which to explore this vibrant and trendy city.
Located close to the heart of Cape Town, Hastings Hall facilitates access to , bookshops and antique stores and gives you the option to make a stop at one of the ever-popular sidewalk cafes for some people-watching.

Further afield, you can enjoy all manner of activities such as hiking, biking and canoeing, or simply meander through the Cape Winelands. Comfortably furnished, secure and central, Hastings Hall is the accommodation of choice for those wishing to lap up the Cape Town tourist experience. Please check out our gallery for Hastings Hall images.
What is there to do at First Group Hastings Hall?
There is no shortage of activities and experiences available at Hastings Hall to keep the family busy. Challenge the family to exciting board games and enjoy quality time with your loved ones while exploring this property's beautiful surroundings.
Port Owen Marina Resort, Velddrif, Western Cape
Port Owen Marina Resort's accommodation offers self-catering options in gorgeous apartments on the banks of the marina in Velddrif, on the Cape West Coast, 150km from Cape Town Airport and just minutes from the fishing village of Laaiplek.

The Port Owen Marina prices, activity list and hospitality are designed to offer you, the discerning traveller or holidaymaker, the quality, affordable accommodation that you deserve.

With endless opportunities for sailing, boating and fishing, as well as a playground and an open-air semi-heated pool for the kids at the resort, visit with us and relax, enjoy fun activities, discover the area and take pleasure in a variety of sporting facilities. Most of the resort's apartments have access to a jetty and guests can bring their own boats and water sport equipment. Don't forget your binoculars, as the area is a birding hotspot.
What is there to do at First Group Port Owen Marina?
Port Owen Marina Resort on the Cape West Coast offers outstanding value with affordable accommodation and an array of amenities necessary for a self-catering holiday. The facilities at Port Owen Marina include Wi-Fi, heated pool, an adventure golf course, bicycle hire, and more.
Go fishing, swimming, or canoeing, or relax poolside while sipping cocktails - these are just a few of the activities and attractions that you can enjoy while staying at Port Owen Marina. Children are kept busy every day in our kids' club, with a wide range of age-appropriate activities courtesy of our entertainment team. Our friendly mascot, Fred First, ensures a fun-filled holiday for the little ones.
Whatever your reason for visiting Port Owen Marina, a stay at this luxurious seaside resort destination caters for lively as well as quieter experiences. Choose Port Owen Marina and we will ensure a memorable West Coast holiday for you and your loved ones.
Riviera Suites, Sea Point, Western Cape
Riviera Suites self-catering holiday apartments offer quality options for the discerning traveller or holidaymaker seeking affordable accommodation in Sea Point.

Location is everything, and Riviera Suites self-catering accommodation is situated on Sea Point's Millionaire's Mile, surrounded by the best that Cape Town has to offer – nightlife, beaches, restaurants and sporting facilities. Nearby sites worth visiting include the V&A Waterfront, Table Mountain, the Cape Winelands, the Castle, art galleries, museums, malls and top-class restaurants.

With uninterrupted sea views and marvellous mountain vistas from your amazing Sea Point apartment, this luxury, self-catering accommodation in Sea Point is perfect for a fantastic Cape Town holiday.
What is there to do at First Group Riviera Suites?
Riviera Suites, on Sea Point's Millionaire's Mile, is perfectly located for anyone wanting easy access to all the attractions that Sea Point and Cape Town have to offer. A stay at Riviera Suites affords you an abundance of holiday options. Whether it's a family holiday or a getaway for two, there are many places to see and visit nearby, including Table Mountain and the V&A Waterfront. A bit further afield you can explore the Cape Winelands, enjoy local art galleries, or eat out at some of Cape Town's top restaurants.