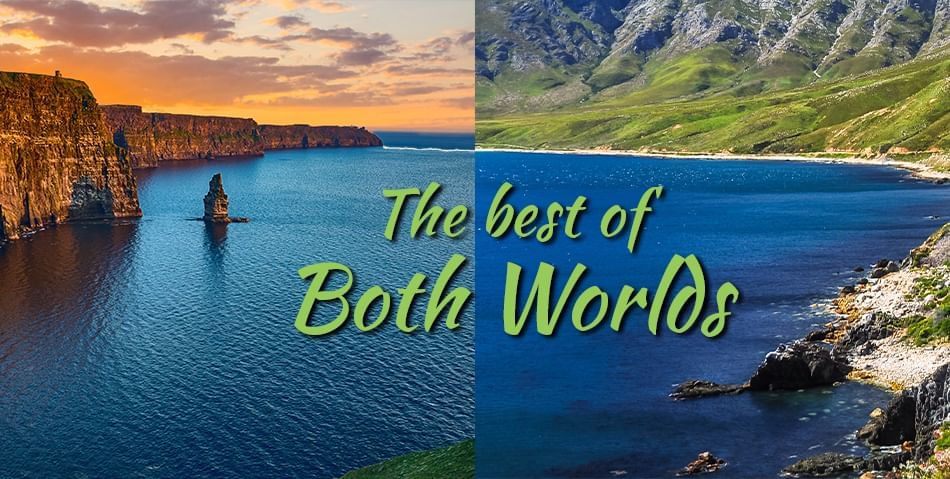 EAST TO WEST CAPE ESCAPES
The Eastern and Western Cape of South Africa provides a sweet spot for unique adventures and diverse travel experiences, with something for everyone to enjoy – from scenery, wildlife, wine & food, history & culture, outdoor activities and so much more. It's a playground for anyone looking for a thrill and can be a haven of relaxation for everyone looking to just chill. Finding the perfect resort to suit your holiday wishlist is the key to setting the right tone for the ultimate Cape escape to remember this Easter month and beyond.

Whether you're keen to explore the Sunshine Coast, be a trendy Cape city traveller or meander the Garden Route, you've got options! This includes if you're travelling solo (for business or pleasure), rekindling the lurrve with your partner on a romantic jaunt or bringing your whole crew along too. First, you have to ask yourself: What are you travelling for and what is on your list of MUST-DOs? The Cape regions are so versatile - you don't have to just pick one thing alone, but it's nice to set a list of priority experiences you want to have so that you get the most anticipated experiences ticked off first.
What are the best things to do in the Cape?
South Africa is home to some of the world's most breathtaking scenery, from mountains and beaches to deserts and savannas (all accessible in the Cape) – so it's yours for the picking. Hike to the top of Table Mountain in Cape Town for stunning views of the city and coastline or visit the vineyards for wine tasting. For the adrenaline junkies, bungee jump off the world's highest commercial bridge at Bloukrans Bridge (if you dare) or go shark cage diving in Gansbaai.



Cape locals are known for their cool vibrations, and this energy is felt the moment you arrive. So, for those looking for a more relaxing Cape Escape, consider lounging on the sandy beaches of the Western Cape or indulge in a spa treatment in the picturesque town of Franschhoek. Take a scenic drive along the Garden Route, stopping at charming coastal towns like Knysna and Plettenberg Bay, or explore the Cape Winelands and sample some of South Africa's best wines. The choices are endless. The best way to explore the best of the Cape is to find an awesome holiday headquarters and feel free to roam everything nearby.

BUT Outdoor Activities trump all options! Both regions offer a wide range of outdoor activities including hiking, surfing, swimming, whale watching, cruises, sporty fun and more. Visitors can also explore the many national parks and nature reserves in the area for that wild-side experience. It all depends on YOUR to-do list. So, let's break it down into what you can prioritize when you're headed to either Cape region.
What are the best places to stay in the Western Cape?
It's not just nature that shines here - even the city views are so spectacular, you will savour the many places where nature meets mankind in its landscaped excellence. One such spot is Riviera Suites situated on Sea Point's Millionaires' Mile. It has the iconic Table Mountain in the backdrop and is right on the coast with delightful ocean views.
With everything you will need from comfy rooms that have all home comforts to access to the trendy city hot spots, this accommodation offering ticks everything you will need for a city escape. Like the star in your own holiday feature film, this resort screams location location location! Enjoy the cosmopolitan nightlife, sandy beaches, top restaurants and excellent sporting facilities. Nearby sites worth visiting include the V&A Waterfront, Table Mountain, the Cape Winelands, the Castle, art galleries, museums, malls, shark cage diving tours, and more.



If you're looking to escape the city, Knysna is the better choice. And if you're going the 'Garden Route', the Knysna River Club is one of the best places to stay. Find tranquillity in lush natural settings, with log-cabin chalets in magnificent gardens or overlooking the lagoon. It's the peace you're searching for in one spot. With inter-leading chalets, a family vacation here offers the best opportunities to keep comfy space between you and your crew and allows for quality connections to happen spontaneously to help make those magical memories, together.
Feeling active? Enjoy a 5km jog to the famous Knysna Heads or walk/cycle to Thesen Islands on the bricked promenade alongside the lagoon. Fishing enthusiast? Throw a line from the jetty into the Knysna lagoon in front of the resort. Or gather the fam and explore the vast lagoon with its many secluded beaches.

From this, it's evident that the Western Cape offers polar opposite experiences depending on where you book your holiday. Now that we've outlined the best spots for the city explorer and the peaceful retreat, here's a few other options for different experiences you can enjoy on your next getaway whether you're looking for a full-on beach holiday, wino experience, cultural tour or wildlife adventure Cape-side.
What are the best beaches in the Eastern Cape?
The Cape is ALL-COAST! Well... almost! So the selection of beaches from the North Coast of the EASTERN CAPE to the North Coast of the WESTERN CAPE is vast. Secluded beaches, treasured and trendy spots and even the popular main beaches are a treat when you're looking to enjoy the warm South African weather with some sunshine, sand and surf. Two top Eastern Cape resorts offer beach paradise and beach access bliss that will answer your innermost yearnings to turn into a temporary 'beach bum' while on holiday: Hole in the Wall and Kowie River Chalets.

Hole in the Wall on the Wild Coast is a beach paradise for nature lovers. You can stay on the cusp between the gorgeous green landscape and cool sandy shores kissing the deep blue sea. Wake up to the sound of the sea lapping your worries away and have access to the best seaside community of friendly locals. The resort has a playground for the kids, a swimming pool for the fam, and a restaurant and bar to satisfy any foodie or thirst craving. Fit in a soothing spa treatment to relax sore muscles or explore nearby hiking, fishing or take farm tours at your leisure. But if you're going to beach paradise, make sure you set aside a good few hours each day to simply lie on the shore and take in the beach vibrations from cocktail sundowners, book on the beach, naps in the sand and dips in the warm ocean to invigorate body, mind and soul.

We've all seen those #beachlife pics on Instagram where the wooden steps and scanty wooden rails lead from green havens right onto the sand to where the waves crash onto the shore… so if THAT's the beach holiday experience you're looking for (to snap those lifetime profile pics and create awesome TikToks with full-on coastal flavour backgrounds) Kowie River Chalets is the beach holiday HQ to book in Port Alfred. It's such a wonderfully versatile resort for group holidays with 3-bedroom log-cabin chalets on offer - take that couple's group vacay, family holiday or girls' getaway. You'll never have to leave the resort because you can experience a world of adventure right there - from birdwatching to board games, daily entertainment and even treasure hunts for the little ones (and the BEACH, of course) - there's never a dull moment! But, if you are looking to explore further out and extend your beach vibes nearby, you can go snorkelling, horse riding, diving, bowling, cycling, canoeing, darts, windsurfing, fishing, or show off your best golf swing at the golf course that's only 3km away.

Plus, the Eastern Cape is known for its delicious seafood, and visitors can sample fresh oysters, crayfish, and other seafood delicacies – this is one of the BEST parts of a Cape escape – indulge in the freshest top-quality seafood on offer.
What are the top wine farms to visit in the Western Cape?

One of the main reasons the Cape is uber popular: it's Food and WINE! (emphasis on WINE, darling!) There are tons of options to choose from when it comes to wine farms & tours or wino adventures, but Cape Gordonia trumps the lot with a perfect balance between coastal relaxation and tasting some of the best wines in the WORLD. The resort's luxury apartments in Gordon's Bay include Wi-Fi, private braai areas, a daily cleaning service, and a childminding service so that you can really relax and enjoy your vacation without having to worry about the kids. There are also (at least) 8 wine farms/estates under 30 minutes from the resort. Here's a quick list of the wine farm tours you can take while holidaying at Cape Gordonia:
• Grape Expectations Winery | distance 6 min
• Late Bloomer Boutique Winery | distance 7 min
• Capelands Wine Farm | distance 16 min
• Journey's End Vineyard | distance 17 min
• Ingwe Wine Estate | distance 24 min
• Lourensford Wine Estate | distance 26 min
• Longridge Wine Estate | distance 28 min
• Vergelegen Wine Estate | distance 29 min

So, simply: Winos Unite! Gather your wine-loving crew and go on the wine farm adventure you've been craving. Focus on the wine only or fill your free time with penguin tours, boast cruises or seaside thrills.

What are the best hiking trails in the Western Cape?

There are more than 25 top Hiking Trails in and around Cape Town alone. Of course, you can't do all of them in one trip – but if you're hoping to tick off the popular ones or a few bucket list hikes, where you STAY is the most important aspect for an all-round awesome hiking holiday experience.
You MUST have comfortable and conveniently located accommodation to retreat to after the planned trekking. Hot showers, comfy beds and top-class facilities are ideal - a dip in the swimming pool can cool down tired muscles and a wellness facility offering back, foot or full body massages can invigorate your sore limbs. Mount Sierra ticks all these Cape hiking holiday boxes. It is located in the heart of the Mother City with Table Mountain right in its backyard. It has one and two-bedroom offerings which provide the perfect spot for solo, couples or group hiking holidays. The cosy rooms have all home comforts, and the resort has an indoor pool and wellness centre onsite. Tick tick tick!

Here are a few popular hiking trails 30 min and under from the Mount Sierra resort - to consider for your next hiking holiday Cape escape:
• Lion's Head hiking trail | distance 6 min
• The Pipe Track trail | distance 6 min
• Kasteelspoort trail | distance 10 min
• Tranquility Cracks trail | distance 10 min
• Platteklip Gorge trail | distance 12 min
• Table Mountain hiking trail | distance 13 min
• Maclear's Beacon trail | distance 14 min
• Skeleton Gorge trail | distance 17 min
• Constantia Nek hike trail | distance 22 min
• Devil's Peak trail | distance 25 min
• Elephants Eye trail | Distance 30 min

Discover the beauty of the Cape on foot, and make Mount Sierra your base camp for the ultimate hiking adventure!

What are the top tourist attractions in the Western Cape?
The Western Cape region is particularly rich in history and South African culture. Visitors can explore historical sites such as the Robben Island Museum in Cape Town or the numerous battlefields and museums that tell the story of South Africa's past. If you're more interested in South Africa's well-known cultural offerings, there's plenty to explore, as well, like the vibrant streets of the Bo-Kaap neighbourhood, known for its brightly-coloured houses and Cape Malay cuisine. There's everything from history, sports, medical and animal tours PLUS museums galore - like Penguin tours, District Six Museum Tour, Castle of Good Hope, Naval Museum, Diamond Museum, Heart Transplant Museum – Heart of Cape Town Museum, and the Springbok Museum.
Hastings Hall is the accommodation of choice for those wishing to lap up the Cape Town tourist experience. It's tucked in the shadow of Table Mountain and Lion's Head, and it provides an ideal base from which to explore this vibrant and trendy city rich in history and culture - the Mother City is at your fingertips and the resort accommodations offer a comfy stay with friendly resort staff.
What are the top wildlife reserves in the Cape?

Both Eastern and Western Cape regions are home to a wide variety of wildlife, including elephants, lions, leopards, rhinos, and many species of antelope. Visiting a nature reserve or wildlife park to see these animals in their natural habitats can be a highlight for all ages. Two top resorts, ideally located hot spots for a coastal Cape getaway with nature reserve and game drive options are: Perna Perna Mossel Bay and Port Owen Marina.
Perna Perna Mossel Bay is one of the very best Mossel Bay resorts, perched on the rocky hillside of this coastal village. It offers a wide range of onsite activities, as well as endless opportunities to explore all the local area has to offer in terms of both ocean wildlife and Big 5 safari tours. Take a boat trip to Seal Island or enjoy a game drive at Botlierskop Private Game Reserve. Also, Gondwana Private Game Reserve is just 30 min away. Spend a day with the kids at Adventureland, where they'll enjoy hours of fun and entertainment. When you're not wildlife or coastal adventuring, the resort has a swimming pool, outdoor fireplace, free WiFi and all comforts you and your loved ones will need.

Port Owen Marina (in Velddrif, on the Cape West Coast) is another magnificent option for a nature Cape escape with a difference. With the gorgeous apartments and chalets situated on the banks of the marina, there are endless opportunities for sailing, boating and fishing. A playground, sporting facilities and an open-air semi-heated pool means the kids will always have something to do. All this and more is onsite and there are a few nature reserves within a 40 min drive, which means you can take your holiday to new levels:
• Rocherpan Nature Reserve | distance 21 min
• Elandsfontein Nature Reserve | distance 33 min
• Hopefield Nature Reserve | distance 37 min
And if you're keen to spot some of the big 5, visit Buffelsfontein Game & Nature Reserve, just under 40 min from the resort.

So, there you have it folks - the Cape Regions of South Africa are an absolute must-visit destination for any adventurer looking to experience any one or a mix of everything on offer. You'll never run out of things to see and do in this unique and vibrant part of the world - from hiking through breathtaking landscapes to relaxing on pristine beaches and spotting some of Africa's most iconic animals in their natural habitats, sipping on the world's best wines - the Cape Regions truly have something for everyone. Don't wait any longer, book your trip today and get ready for an unforgettable Cape Escape!