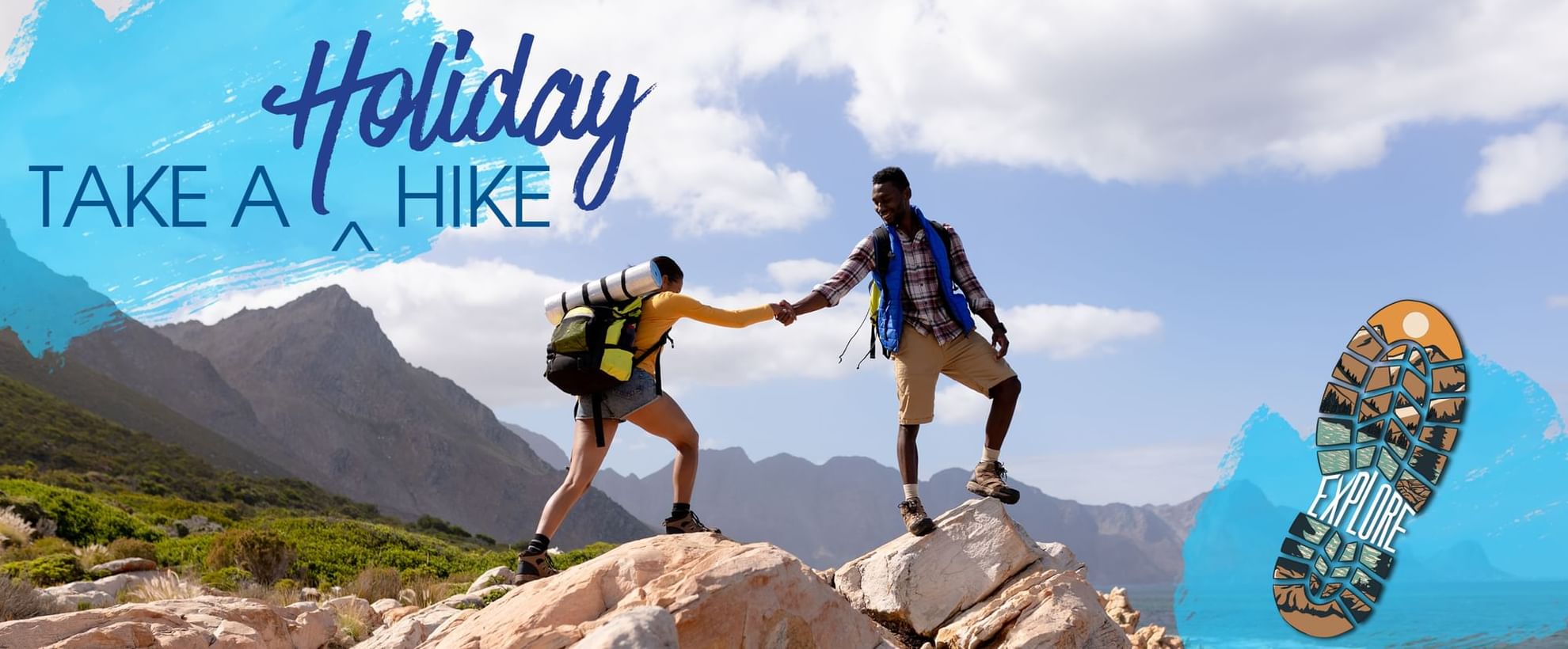 "Some of the best memories are made in hiking shoes." - Unknown
A big, hearty hug and hello to Spring – our favourite season. Spring adventures means chirping birds sound even happier, budding flowers begin their blooming, and the warm sunshine starts to replace the winter brrrr. Hiking in spring can mean an excellent change in your pace after being indoors during chilly weather. While hiking at popular spots around your area is the best way to get your hiking passion lit, travelling to awesome well-known hiking spots can keep you healthy and happy in vacation-vibe mode. We've got a list of top hiking spots in SA and great tips on how to make the most of your trip when it comes to hiking holidays.

There's just something about that feeling of having nothing to do but set off on a hike and discover 1) the terrain, 2) fellow hikers, and 3) yourself, on the climb. Escaping the hustle and bustle of everyday routine starts with booking a weekend away or putting in leave at work and taking on the ultimate hiking challenge, no matter your level of fitness. Never even thought of a hiking holiday in the first place? Don't worry! Walking trails marry the best of both worlds when it comes to nature and your adventure level.




Prime Time To Take a HIKE

Hiking is considered a low-intensity form of aerobic exercise. According to popular fitness brand NIKE, "Hiking can help reduce stress and boost mental health." All the more reason to grab your hiking boots and pick a trail, quickly! Taking a hiking holiday has become a new trend in recent years, and in this article from NIKE, it's so interesting to note just how important hiking can be… "…in Scotland, as part of their medical system, prescriptions are written for outdoor hikes to lower feelings of stress, lower blood pressure and improve overall health." (Rand McClain) That is how powerful a walk can be, and the best part is you can do it solo, as a duo or with your whole squad in tow – it all depends on you and your travel mood. Take that time in nature and return to luxurious relaxation instead of the dishes, washing or helping the kids with homework. Because, while we may love our lives, sometimes to add that extra spring to your step: YOU JUST NEED TO TAKE A HIKE! ON HOLIDAY!



It's an opportunity to amplify the magic that the changeover to the spring season brings. Whether you're a nature trailblazer or mountain hiker, in SA, there are tons of options. What's the difference? Well, walks are shorter in duration and can be enjoyed by any age group with relative fitness. While hikes tend to be a little longer and harder walking-wise, they are usually on trails through the mountains or through bush or over countryside terrain. Hiking in South Africa is a spectacular experience for locals and tourists alike. Where you stay is the most important aspect for an all-round awesome hiking holiday experience, and we have all the details you need right here.

Cape Town Hiking Trails
Hiking Tip:
Choose the right shoe and sock combo.

If you're looking for a versatile spot with plenty of choices when it comes to walking and hiking trails for all levels of adventure, Cape Town has so much on offer. There are more than 25 top hiking trails in and around Cape Town alone. We know you can't do ALL of them in one trip – but if you're hoping to tick off a few of the popular ones or try new trails, you will not go wrong with a trip to the Mother City. The Table Mountain and Lion's Head trails, of course, head the list. Table Mountain is a 3km (on average) hike and takes approximately three hours to complete. Lion's Head hike is a 5 km trail but is more moderate in difficulty – depending on your pace, frequent hikers say the round trip should only take 2-3 hours. It's one of the best spring hikes to consider because the landscape transforms from winter dryness to a sparkling glow of new growth.
These hikes are suited to any time of day, from sunrise to sunset. But what you do before and after the hike can also help enhance the experience. Choosing the ideal place to stay within close proximity to the hiking trail can help logistics-wise, hearty breakfasts to build up the energy help keep you ready for the climb, pools for warm-up swims before the trek begins make the build-up even more exciting, and a spa treatment like a foot or full body massage after the walk ensures you're looking after your overall wellbeing. It's about the right balance of comfort before and after the challenge of the climb.


Table Mountain is less than 10 km from Riviera Suites, which has comfy rooms, a heated pool and a wellness spa onsite. This helps because everything's in one spot, especially with the Jooma Coffee Shop onsite for those morning meals and snacks. An added benefit is that this resort is right on Sea Point's Millionaire's Mile with the V&A Waterfront within easy reach and tons of exciting hotspots to enjoy like pubs, clubs, cafes, and restaurants. Or warm up for the walk/hike with a slow stroll through the Two Oceans Aquarium or the many museums and art galleries the Mother City is known for.


Mount Sierra ticks all these Cape hiking holiday boxes and more. It's got Table Mountain right in its backyard as it's located in the heart of Cape Town. It's perfect for solo, couples or group hiking holidays with one- and two-bedroom offerings which provide cosy rooms with all the home comforts, plus a heated indoor pool and wellness centre onsite. The added benefit of staying here is that there are multiple hiking/walking trails under 15 min away: The Pipe Track trail is 6 min away | The Kasteelspoort trail is 10 min away | The Tranquility Cracks trail is 10 min away | The Platteklip Gorge trail is 12 min away | The Maclear's Beacon trail is 14 min away!
Also, when you're in Cape Town, don't forget to visit the Kirstenbosch National Botanical Garden. Here, there are always flowers and interesting plants to be seen in every season, but to enjoy the maximum number of plants in flower & to witness the fynbos at its best means the optimal time to visit is in spring or early summer. It's great for those looking for a colourfully picturesque walking trail in celebration of all things blooming good.

Hiking Tip:
Plan ahead & check the weather

Best Hikes on the KZN Coast

The KZN Coast is a truly special place for hiking and walking trails because of its many beaches and lush landscapes that particularly sparkle in spring. When visiting Durban, your trail choices include hiking hotspots as well as flat routes that make walking a breeze. Tons of parks and gardens such as the Japanese Gardens, Botanical Gardens and Mitchell Park have popular walking trails which can be an excellent warm-up to the main event trails at Paradise Valley or even the Umhlanga Lagoon Nature Reserve. And, of course, let's not forget the stretches of beaches including the Durban Beachfront promenade, which is about 8 km in length, making it the longest beachfront promenade in sub-Saharan Africa. If you go further north or south, you are met with even more possibilities for awe-inspiring hikes and unmatchable views where the Indian Ocean meets the edge of the continent.


As the seasons change, Durban always seems to warm up first. The Palace on North Beach, right by the famous promenade, is ideally situated for those sunrise beach walks on the actual sand for a level-up kinda walk or to end the day with breaks along the promenade for sundowner pitstops. The accommodation is luxurious, with a pool for a post-walk swim and a La Vita wellness spa so you can take in a treatment to ease sore muscles, or just pamper yourself with a foot massage to put the spring back in your step. If you're looking for something a little more adventurous, Paradise Valley, under 20km away from The Palace, has four distinct hiking trails in a full-on natural environment that is a little more challenging than the beachfront's promenade. It's peaceful and provides a powerful experience in nature right on the edge of the city.


Hiking Tip:
Apply sunscreen before and during the hike for the best protection from the glorious sun!

KZN North Coast Hiking Trails

Another great promenade on the KZN Coast is in the resort town of Umhlanga Rocks and Breakers is the best choice for accommodation when visiting the northern parts of the city. Walk on the promenade (3 km), right on the beach, or venture a little further and take on the Umhlanga Lagoon Nature Reserve trail (1.6 km). A highlight of this trail is the pedestrian bridge that enhances the prime spot you are traversing, from ocean views and sub-tropical greenery to bird and smaller wildlife encounters. After the walk, retire to your comfy room at Breakers and enjoy sea views, scrumptious cuisine at the onsite restaurant, a wellness spa, and multiple pools as well as a pool bar. It's the perfect 'relax' after a nice long walk, whether you're going solo, with bae or with your whole crew.


Hiking Tip:
Carry water to stay hydrated & a hat to protect you from the sun



And if you want to venture even further north on the KZN Coast, Ballito and St. Lucia have amazing tranquil spots completely away from the hustle and bustle of city life, with multiple options for walking trails and hikes. For instance, if you stay at La Montagne in Ballito you can enjoy the Ballito promenade (4 km) or go further north and stay at Lake View Cabanas in St. Lucia and take on the St. Lucia Estuary Board Walk (2.4 km), the Gwalagwala Trail (2.3 km) in the iSimangaliso Wetland Park, or head straight to the beach and take on the whopping 15 km Main Beach Walk - but you can choose how far you wander!
Best Beach Hikes

The Hole in the Wall hiking trail is a popular path along the Wild Coast and features the famous rock formation after which it is named. It's an 8.4-km trail near Coffee Bay and is a moderately challenging route. Frequent hikers say it takes an average of 2h 43min to complete. This trail is a hotspot for hiking and strolling, yet it unveils moments of serene solitude during its quieter hours. And if you're not into the 'formal trail' route, blaze your own path, creating footprints in the sand on the beach when you stay at the Hole in the Wall resort, located right in the natural bay. The sun and surf make it a nature lover's beach paradise for hikes and strolls, all at your own pace.

The Hole in the Wall resort also has tons on offer for the solo traveller or couples, from scrumptious meals and drink specials at the onsite restaurant to a wellness spa for that 'me-time' or 'we-time' spoil after the hike. If you're taking the whole family, the kids can enjoy a playground and trampoline, plus a swimming pool and, of course, the beach is right there for added fun. Or take a day trip and explore the Addo Elephant Park and Mapuzi Caves nearby. Dive into nature with surfing, cycling, snorkelling, and horseback riding. There is so much to fill your time with before or after your epic climb. Also… the hikes and the walks are geared for those second honeymoon vibes hand-in-hand with bae, and the background is stunning for those epic profile pics and Insta snaps!


Hiking Tip:
Pack your phone, and make sure it's charged – pic for the summit or to make an important phone call.

Best Bush or Berg Hikes

When thinking about hiking and summits, the mountains are a prime place to be. Even Bush walks where you can encounter wildlife on the way and cool countryside hikes means you can truly take in nature in all its springtime glory. Popular and classic routes like the iMfolozi Wilderness Trails (Hluhluwe-iMfolozi Park), Milestone Forest Walk (30 min to 1hr walks) on the Balgowan Conservancy in the Midlands or even the Fort Nottingham Nature Reserve where a trailblazer review from Carlo de Castro, who gave it 5 stars, stated: "The Tony Kerr trail was a little hidden gem. An easy stroll through a beautiful little forrest. It is well sign posted so you can walk through on your own." The Midlands and Berg are great choices for those memorable hikes in crisp mountain and countryside air.



When you're travelling there, spend the night (or two) at Bushman's Nek (Drakensberg) or book in at Midlands Saddle & Trout (Midlands) as there are plenty of hiking and walking trails within a short distance. Plus, both resorts have choices for unit/chalet size, so if you're going solo, as a pair or couple, or with your whole squad, you're covered. Also, don't forget to take a dip in the swimming pools, soak in the heated pool, grab some chow from the onsite restaurants, and fill the rest of your time warming up to the hike with activities like adventure golf, horse riding, cycling, fishing and more.


Hiking Tip:
Make sure you have the proper amount of food (before) and snacks for an energy boost along the way – fruit or snack bars are great!

Magalies Park in the North West province is a wonderfully relaxing resort to warm up to wilderness hikes or cool down after completing a walking trail. The resort itself is on a pristine golf course, close to the Hartbeespoort Dam. So, the choices for walking trails and hikes are endless. Even a walk through the resort brings wildlife encounters and a great chance to stretch your legs with pit stops along the way… during a game of paintball or a walk from the paintball arena to the heated pools for a quick dip before a slow and steady walk to the La Vita Spa onsite for a rejuvenating spa treatment. The Magalies Park Trail (4.3 km) is also right next to the resort, offering an amped-up hike option for those looking to go the distance.


Hiking is such a totally versatile activity. You can start wherever you are. Walking trails are great if you're just starting out. Or you can take on the big challenges, reaching summits inside and out, when you're ready. But ultimately, it's up to you and what you're hoping to get from your choice of hike/trail.
As the vibrant blooms of spring paint the landscape, it's the perfect time to heed the call of adventure and embark on a hiking journey along South Africa's diverse and breathtaking trails. Spring's arrival signals a chance to bid farewell to the winter chill and embrace the rejuvenating warmth of the sun while exploring nature's hidden gems. Whether you're a seasoned hiker seeking a challenging ascent or a nature enthusiast looking to reconnect with the great outdoors, these trails offer a gateway to self-discovery and tranquillity. Like they say: when in doubt, walk it out!
"Take only memories, leave only footprints." Chief SI' AHL